NorthShore's Last Frontier, CGC aka KYRA
Owner: Becky & Dave Bowdish - Handled by Kelly & Kaitlyn Benedict
Main Tickle Red Admiral of Pow Wow (brn) x Liberty's Gabriela (blk) 05/01/2008
Breeder: Claire Hernandez Owner: David & Rebecca Bowdish
THE BERINGSTRAIT NEWFOUNDLAND FAMILY INTRODUCES BABY KYRA. ALTHOUGH SHE IS DAVE'S BABY GIRL, SOPHIE AND BUTCH LOVE HER LIKE SHE WAS THEIR OWN PUPPY. WE COULDN'T IMAGINE OUR NEWFY EXPERIENCES WITH OUT HER! WE SINCERLY APPRECIATE DAVE & BECKY FOR ALLOWING KYRA TO BE A PART OF OUR FAMILY TOO.
Newfoundland National May 2010 - Kyra receives a 3rd place ribbon from the American Bred Class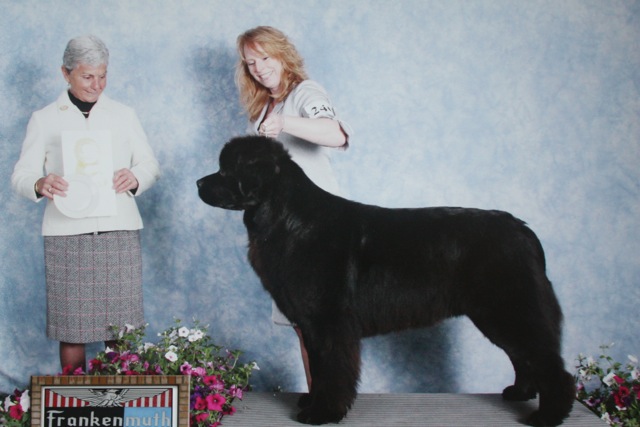 Newfoundland National Speciality May 2009
Kyra makes the first cut in 9-12 Sweeps and the 12-18 class on Friday.... Friday was her Birthday!
Kyra's first puppy fun match Alaska Kennel Club SHE'S JUST 3 MONTHS OLD

SO SWEET
Kyra wins her 3-6 month class

MORE TREATS PLEASE KATIE....it's almost time for the working group class
"STAY LIKE THIS AND I GET A COOKIE "
STAY LIKE THAT KYRA & YOU GET A COOKIE AND A GROUP 1
A PUPPY NAP... IS ALWAYS BEST BEFORE YOU GO INTO THE BEST PUPPY IN SHOW RING.
KYRA WAS THE PERFECT SHOW PUPPY TODAY. ALTHOUGH SHE DID NOT WIN THE BEST PUPPY IN SHOW RIBBON, THOSE 15 MONTH OLD HOUND PUPPIES BETTER LOOK OUT NEXT YEAR..... SHE'LL BE A BIG GIRL THEN....